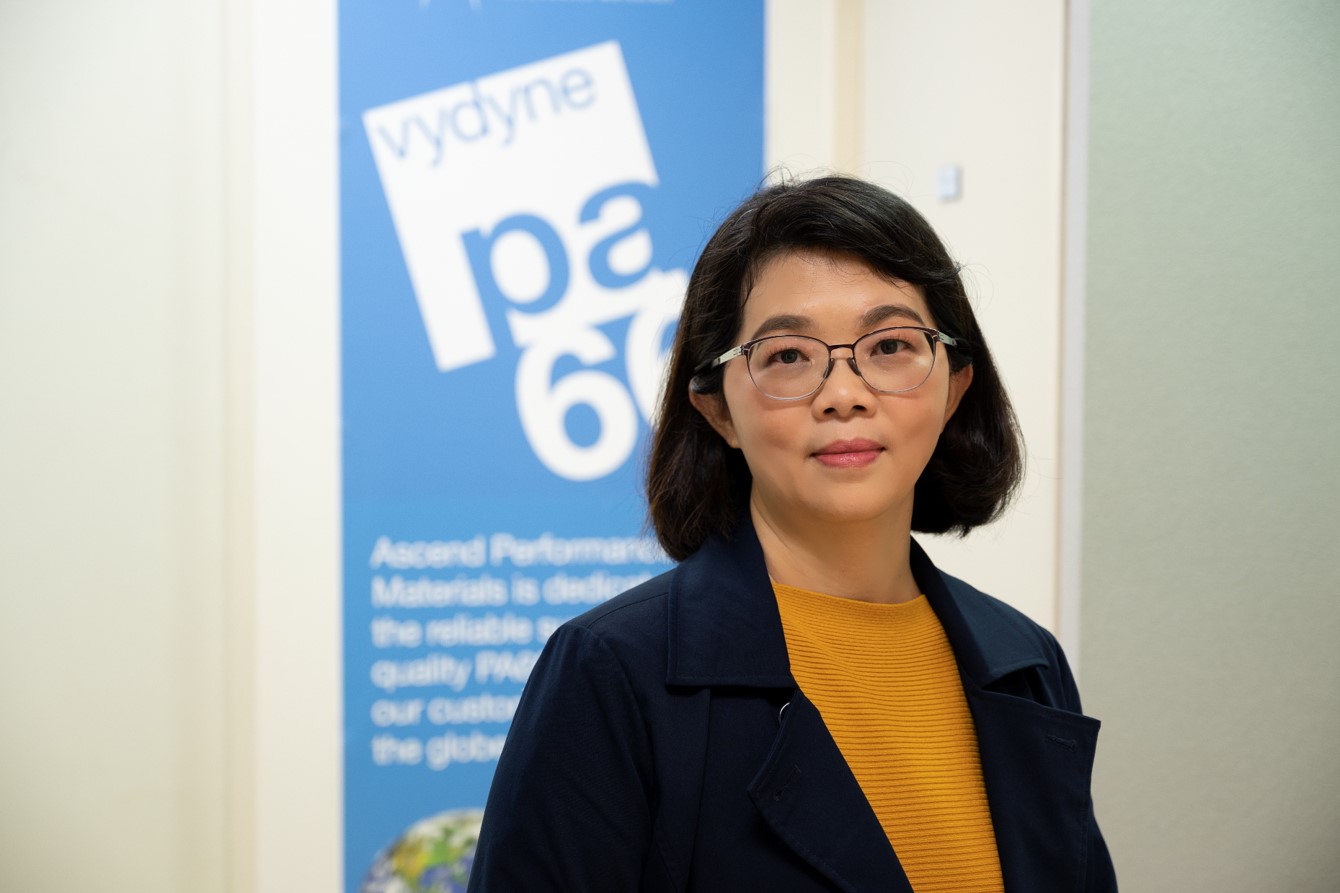 As the first Ascend Performance Materials employee in Taiwan, Sunny Chou saw nothing but growth potential when she moved to that office in 2009. "As Ascend continued to expand in Asia, I knew there was great interest in our products in Taiwan," says Sunny, commercial manager for Taiwan and southeast Asia. "As an employee, I am responsible for creating business for the company."
After settling in, Sunny quickly began doing research on the customers in Taiwan. She thought of every reason that an office there could succeed, including how local customers prefer calling over sending an email to ask a question and that many prefer to speak Hokkien.
She compiled her research and submitted a proposal to increase sales in Taiwan by nearly 40%.
"Yes, we are selling a product, but being customer-focused goes beyond that to show we truly care about their business," says Sunny. "I found out how they prefer to communicate and which language would build a better customer relationship."
By recognizing these customer preferences, Sunny met her numbers. She grew the business by 38% in a single year.
With business growing, Alan Lee, located in Singapore, began working with Sunny as a technical sales and technology specialist.
"Sunny has a quote she repeats at work, 'Do what you think is needed to support our customers,'" says Alan. "She challenges me every day to think how we can make our products and services better for our customers, which ultimately helps Ascend grow in this region."
Alan says Sunny is always encouraging and putting her full trust in him. "It's a strong motivation knowing that my supervisor wants me to be successful and trusts the decisions I make," says Alan.
Living Ascend values
In 2018, Ascend established the company's core values: one Ascend, we care, customer focused, better every day and agile. Sunny incorporates all the values, but especially identifies with better every day.
"In my life, better every day is not just words," says Sunny. "It's a challenging perspective in life that everyone should have. Every day I find a new way to get better and to make the company better. The only way to get better is if you challenge yourself and that's what I do every day. It's how I work and live."
With Sunny's determination and customer focus, she received the Best Employee in Asia award in 2018 and 2019 – the only employee to be given this award two consecutive years.
Sunny shares these accomplishments with her family. "I tell my two sons there's always a way to make yourself better every day," says Sunny.
As Sunny continues to find ways to support the company, she is working on her next proposal on how to build the business.