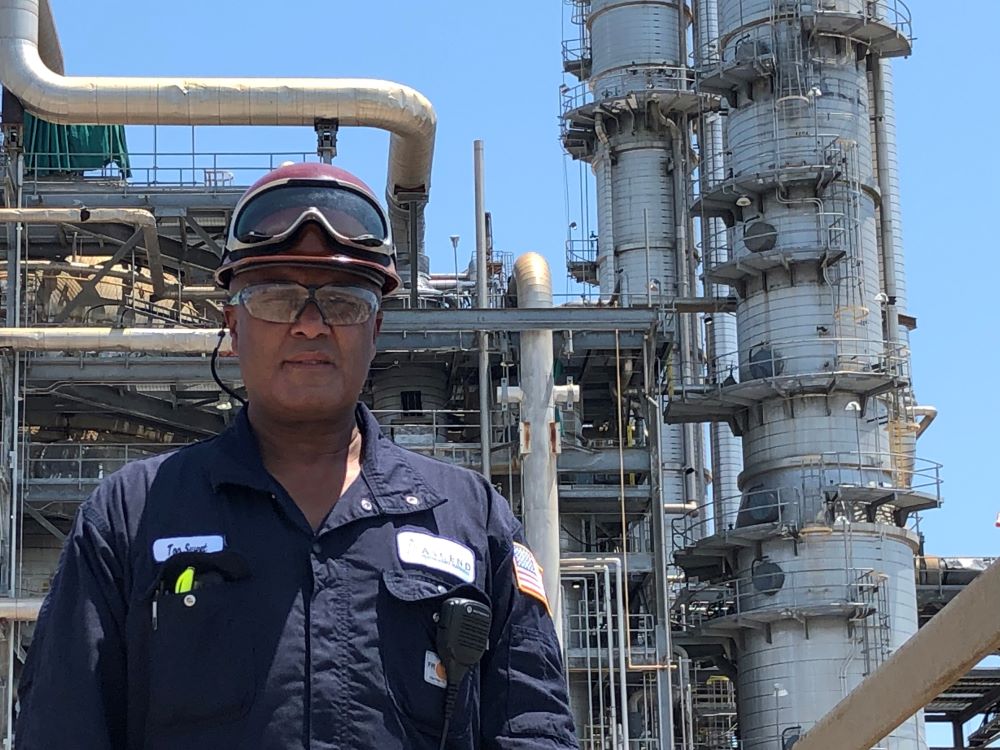 As senior maintenance specialist Kevin Carrier stood on the bank and watched his fishing line land in the lake beside Chocolate Bayou, he was distracted by the overgrown grass, pieces of trash and lack of maintenance. The next day at work, Kevin decided to take a team to mow the grass and clean up around the lake. That's the better every day spirit that Kevin is famous for at Chocolate Bayou. Whether it's the site, the community or his work, for Kevin there's always a way to make things better.
On a typical morning Kevin begins making his rounds at 5:30 a.m. He visits each unit and asks, "What can I help with today?" This question is synonymous with Kevin and how he works.
"This is the attitude everyone is familiar with when talking with Kevin," said Kevin Hudson, maintenance manager at Chocolate Bayou. "He wants to know how he can improve things and keep the site running in the best possible way."
While making rounds around the site each day, Kevin sees ways to make improvements that others might not. He saw that some pumps that were being rented, but later found a similar set of pumps in storage. He saw the potential to save money, had the pumps refurbished and replaced the current ones.
"Kevin finds innovative ways to improve the site," said Kevin Hudson. "He noticed an area that we could make an instant improvement and he took it upon himself to get it done."
"I don't like people wasting money," said Kevin Carrier. "I am responsible for taking care of this site. It's up to me to find ways to make things better."
This kind of thinking has led Kevin, along with the maintenance team at Chocolate Bayou, to make impressive improvements. Maintenance has increased completed work from 70% to 90% and scheduled work from 70% to 130%.
Helping the site also means helping fellow employees. Kevin has coordinated many events for employees and contractors. His fundraising events have raised more than $30,000 for employees and their families.
"If another employee is in need of financial help, Kevin is the first one to get his BBQ pit and start cooking," says Kevin Hudson.
"I wish I could take credit for Kevin being the employee that he is," says Kevin Hudson. "To be honest, I wish I was more like him. Kevin has made a difference at the site and in the lives of so many people here."
Kevin hopes that employees in Chocolate Bayou will be motivated by his thinking, attitude and work ethic. "I always try to do the right thing," said Kevin Carrier. "You have to lead by example and hope people will follow the same thing."