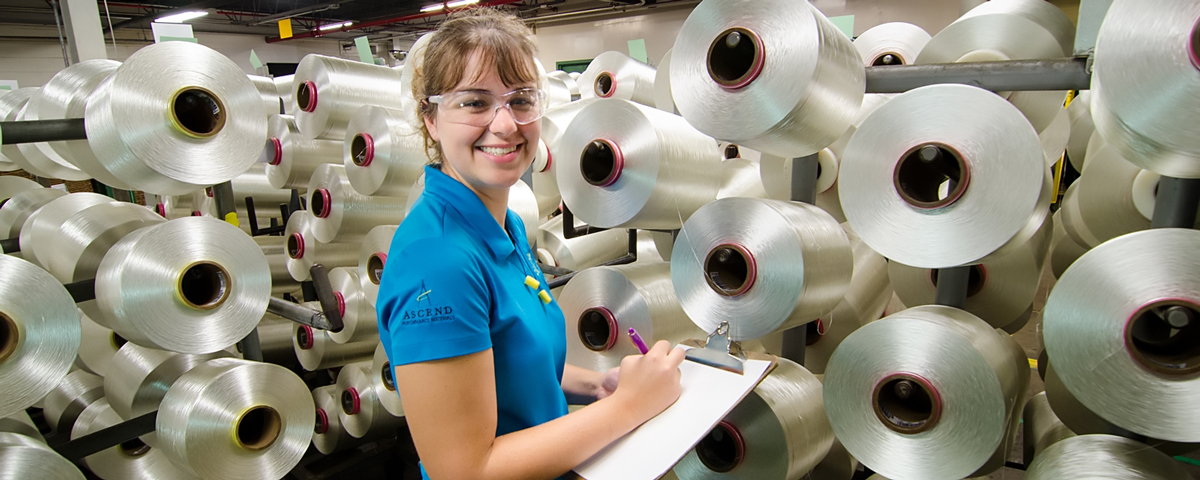 Jeannie Kwarsick is considered the go-to person when it comes to making improvements in the industrial fibers unit at Ascend's Greenwood plant. Those who work with her say she knows exactly what to do to find solutions to problems, big and small.
Jeannie, a technology process engineer, is one of the unit's experts in A2E, Ascend's improvement program, a role she earned through hard work and training two years ago. She relishes the responsibility because it's about working to make the company the best it can be.
A2E is an effective and efficient problem-solving process that enables Ascend to deal with improvement opportunities. Driven by data and a team approach, it's an essential part of everything we do at Ascend.
"When I was selected to do this, I was real excited," Jeannie said. "I like the process because it makes you think about every possibility. It's a way to sort through ideas and organize your thoughts and come out with the right solution each time."
Since becoming involved in A2E, Jeannie has led eight improvement projects, including one that addressed waste reduction. The industrial fiber unit was producing too much off-grade material, so Jeannie and her A2E team put in place a measurement system to record the causes. This data enabled the team to pinpoint several issues in the production process, which led to improving the steam control system and, in conjunction with an existing capital project, upgrading broken filaments sensors. The team was able to reduce the amount of off-grade produced, saving the company nearly $100,000 in 2015.
The project was nominated last year for APEX, the company's annual event that honors individuals and improvement projects that make a significant impact on the business. In addition, Jeannie was nominated for individual recognition for her leadership and engagement in A2E and selected as a delegate to attend the event in West Virginia. She was nominated as individual again this year.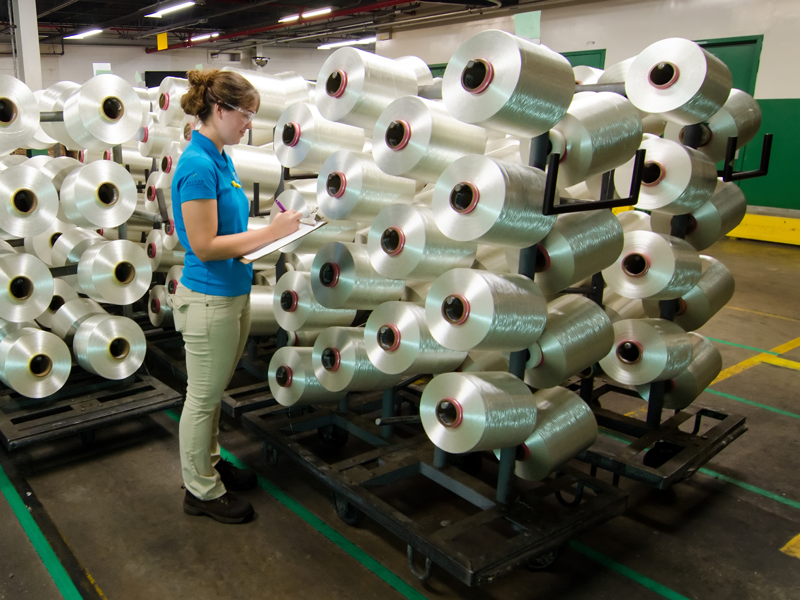 As a young engineer, Jeannie juggles her A2E responsibilities and her normal work duties with ease and maturity, her colleagues say. She has the technical knowledge, communication skills and a natural ability to teach others – all of which demonstrate her potential to be an operations leader in a few years, they say.
"She's very dedicated to her work and excited about everything she does," said Wei Deng, the industrial fiber unit's operations leader. "Even with tough issues, she doesn't get discouraged. She always wants to look at how to use A2E to do things better and smarter."
Many of her colleagues describe Jeannie as a good mentor and coach. She is always available to answer questions about A2E and is more than willing to help with projects. She also listens to other's suggestions and is quick to form an A2E team to look into them, they say.
Her high school sweetheart and husband Scott Kwarsick, a production engineer for the BCF and polymer unit at Greenwood, said A2E is a way of doing business for Jeannie. She wants to help the company drive A2E forward and to see it expand so every team member on the floor can get involved, he said.
Jeannie had the same focus and determination when she came to Ascend four years ago. She was still in school finishing her last semester at Clemson University when she was hired. Some team members admit they were a little skeptical about the new hire.
"What we expected and what we got were pretty different," said co-worker Pam Tinsley, a quality technician at Greenwood. "She had to learn our process, which takes time, but she caught on quickly in three months. She studied and asked questions. Once she got here, she fit in well."
Jeannie started as a manufacturing engineer and quickly moved up to a technology process engineer, dealing with more long-term technology projects and process development. Her initiative, knowledge and personable approach is respected by most everyone, Tinsley said.
She will soon move to the next level of A2E leadership – Black Belt. It's a role that requires more advanced skills and knowledge about streamlining processes and making lean improvements. She is one of 16 Ascend team members company-wide who are completing the company's inaugural Black Belt training this year as it ramps up A2E training for all employees.
As part of her Black Belt training, Jeannie is working on two required projects, including a yield improvement project that's expected to garner $200,000 in cost savings and potentially increase business for the unit.
"I enjoy A2E a lot. I think there is strength in numbers," she said. "It helps me improve and the unit improve, and the projects are important to help us meet our business goals.
"It's very refreshing to be at a company where they are willing to grow and make a change in the culture to ingrain A2E. We will continue to improve and that's what we all want."