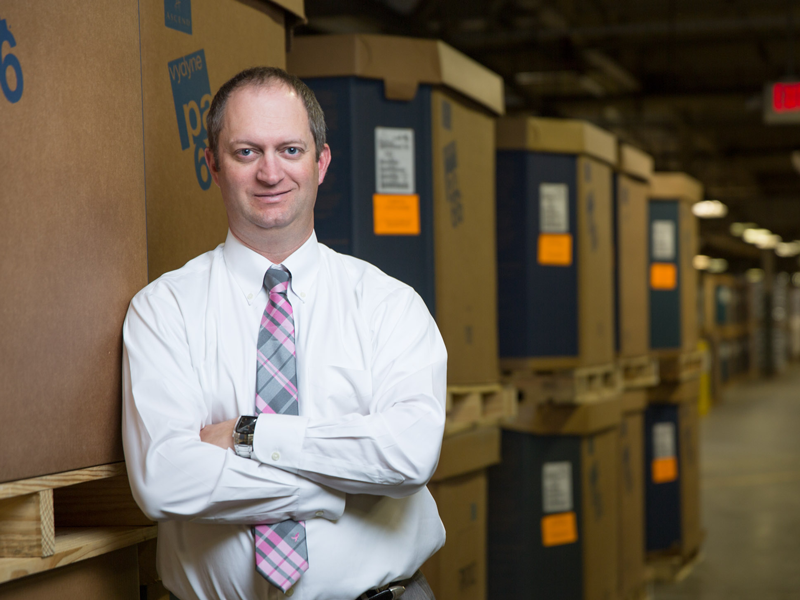 Glenn Drummond had little work experience and a derailed dream of becoming an engineer when a friend told him about a job opportunity at Ascend's Greenwood plant. Family finances had forced Drummond, then 18, to leave Clemson University after one semester, and he needed a backup plan fast.
Drummond was hired as a contract manufacturing operator in 1992. He worked a rotating graveyard shift that was so grueling, he often thought about quitting. But he stuck to it, eventually becoming a full-time employee.
He didn't know it then, but he would soon discover that Ascend is a great place to build a career. The company is committed not only to growing its business but also to growing its people. His decision to stay with the company led to a new career path – highlighted with several promotions over 24 years – that he never imagined.
Today, Drummond is Ascend's global demand planning leader, a position he was promoted to in October 2015. From his Pensacola office, he oversees inventory in the company's global warehouses and works closely with the commercial team on forecasting supply to ensure customers' needs are meet.
"I give a lot of credit to a lot of good people along the way," Drummond said. "I just kept my nose in the middle of things and made good, strong relationships. Thankfully, I had opportunities come my way, and I was able to help the business with the knowledge I have. Ascend has been very good to me in that regard."
An opportunity to grow
The turning point of his career came in 2001. His supervisor approached him about applying for a quality assurance technician position. Drummond had been working at the plant for nine years and was anxious for a new challenge. He had gained an understanding of the business and felt he could do more for the company, he said.
He got the job and from there, a determined Drummond progressed to other assignments – each with more demands and responsibilities – and even managed to go back to school to earn a business degree. The position gave him an opportunity to show management was able to contribute to business decisions and make a difference.
After a few weeks in the role, he was called into the plant manager's office. The plant manager told Drummond he had doubts about whether he could do the job, but in a short time Drummond had erased all of them. The compliment, Drummond said, gave him confidence and reinforced what he always believed about himself – he had more to give and now he had the chance to prove it.
New challenges and promotions
In 2003, he married his wife Karen and the following year, the couple's first child was born. Then in 2005, he heard about a job opening through a casual conversation with co-workers. Jokingly he said, "Put my name in the hat." Two days later, he was offered the frontline operator supervisor position in the plant's spinning area. He had worked there as a machine operator, so it was a good fit, he said.
With things moving so quickly on the career front, his wife encouraged him to go back to school. Together, they devised a plan for him to get his degree at Limestone College. Over the next five years, he worked and went to school, taking 12 hours per semester. He earned his bachelor's in business management in 2010.
By 2008, the company was realigning its workforce. As a result, Drummond was moved to the position of master scheduler in planning overseeing the plant's production assets and scheduling products to be made to meet customers' orders leaving the plant. It was a steep learning curve, he said.
"There was only one planner left at the time and he had been there for 45 years," he said. "He was my only support, and he died in January 2009. So now, I'm the only one who can plan and schedule. I had to go from zero to 60 really quickly. At the same time, I'm in school and we had a second child in 2008."
The plant manager asked Drummond if they should hire another planner. Drummond said no. He decided he would give it his all and try to do his best work in the role. He wiped the slate clean and began streamlining scheduling process making it more efficient.
Lateral move adds skills, leads to new role
"I developed a system so that I could manage all of it," he said. "It's the same system being used today. I take a great amount of pride in knowing I did that for three and half years."
Drummond moved to the Pensacola site in 2012 after being promoted to business operations planner, a job he describes as "the pinnacle of planning for the polymers and fibers division." He oversaw a higher level of production, inventory, forecast and demand planning.
By 2015, he was ready to move to a new role. The business operations planner role had been reduced to overseeing only fibers to align with the company's new business strategy. He wanted to keep developing, so he sought a lateral move and became the North and South America demand planner. The position would move him closer to Vydyne and all of the commercial chain giving him the opportunity to round out his skills, he said.
Seven months later, the global demand planner position became open. "As I read the description, I thought, 'I can do this,'" he said. He got the job.
Drummond has come a long way since his first day at Ascend. Through passion and hard work, he was able to develop a successful career. Other employees have the same opportunity at Ascend, he said.
"I would say don't underestimate your value. You have the potential to give more," he said. "Knock on those doors so you can show that potential. Don't settle or be complacent. You have to push yourself."