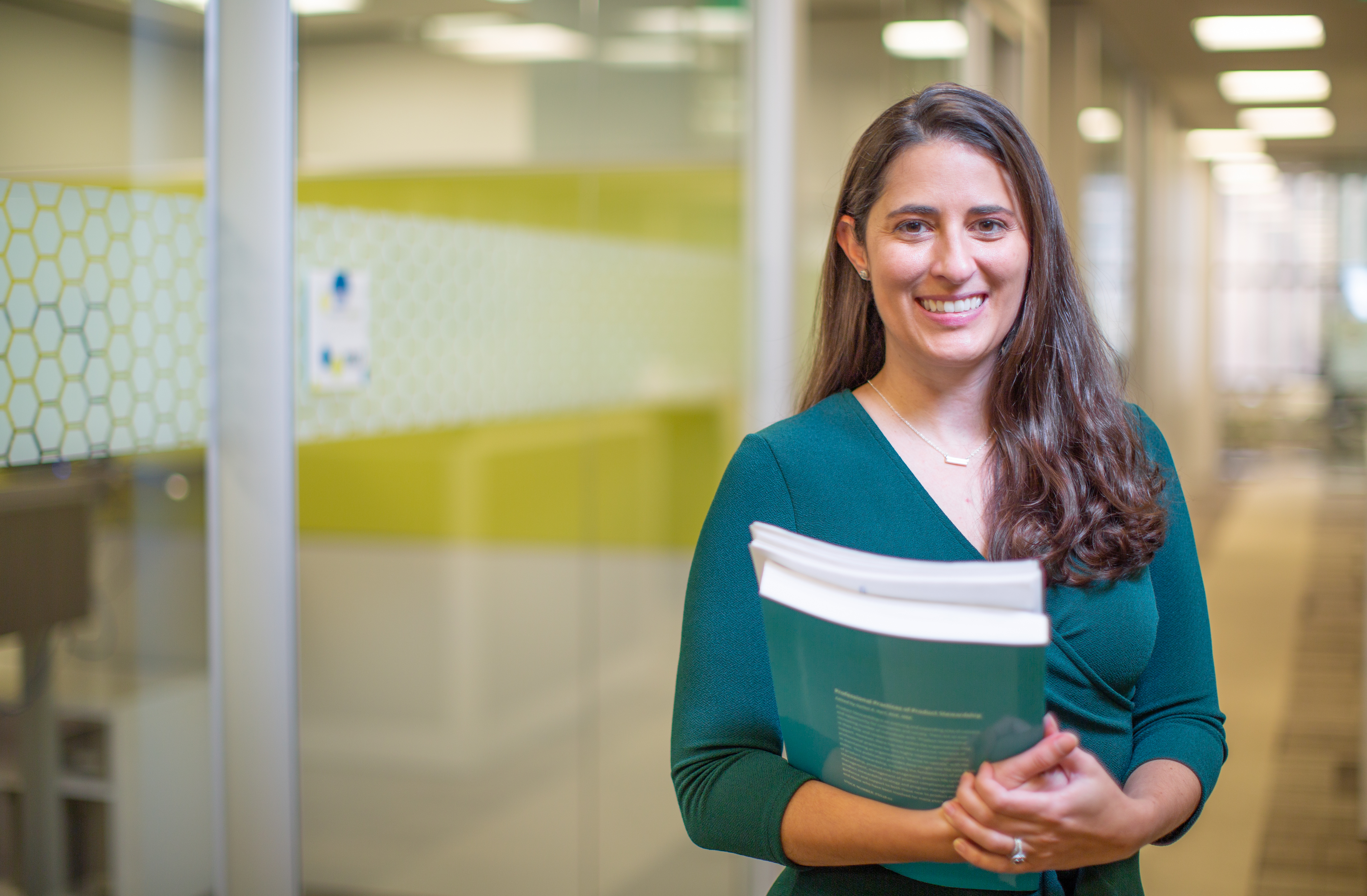 With a book in hand, Natasha Dean sits at her desk examining the information on each page. This is the fourth Code of Federal Regulations chapter in six months Natasha has read about U.S. Environmental Protection Agency regulations. Ascend has a new specialty chemical product to put on the market and it is her job to make sure it complies with government requirements. Natasha turns the page as she figures out how the technology will fit in the EPA regulations puzzle to produce safe and superior products for our customers.
New products prompt many questions. How does it work? What material is it made of? How can this benefit our customers and the industry? Natasha, product stewardship manager, needs this information to help bring our products to market.
"I first meet with the specialty chemicals team to learn about the product," says Natasha. "I apply what I already know and think about how our product would fit into EPA regulations."
When a product doesn't meet regulations, Natasha breaks the news to the team – and then works with them to make the required changes. "There's a difference between a bad and a good product steward," says Natasha. "A bad product steward says 'no' and doesn't tell you why. I tell you 'no,' and offer options that meet the regulatory requirements."
This approach was seen when the specialty chemicals team came to Natasha last year to discuss a new product. After research, Natasha learned the team's approach did not meet regulatory requirements. Rather than scrap the project, she helped the team find a new market for the chemical. The result is FlexaTrac®-ACM-P300, an EPA-registered octane enhancer fuel additive.
"While a product might not fit one requirement, it may fit another giving us a different route to market the technology," says Natasha. "I'm here to create opportunities for our products."
That commitment to rigorous scrutiny combined with customer-focused problem solving is what makes Natasha so successful, says Ascend's VP of ESSH Paul Cartlidge. "Natasha is our conscience within Ascend," he says. "She navigates through regulatory processes to make sure we are compliant with regulations. Natasha has been essential in the globalization of our products."
One of Natasha's greatest challenges came in the spring of 2020, when third party testing showed that Ascend's Acteev™ technology, which embeds zinc ions into the nylon 6,6 polymer, could be useful in helping fight the COVID-19 pandemic. The company prototyped and tested a surgical mask.
Natasha quickly began learning the U.S. Food and Drug Administration regulations. "Because we were seeking to market Acteev as a medical product, it required FDA approvals," says Natasha. In less than a month, Ascend created Acteev Biodefend and filed its first 510(k) submission – a notification to the FDA of intent to market a medical device.
Success as a product steward demands close relationships with many partners throughout the company. One of Natasha's closest collaborators is Ascend's assistant general counsel, Adel Sander.
"With new and existing products, there is a technology side and a risk side," says Adel. "Natasha and I work together on how we can explain the products to the agencies. She has an uncanny ability to translate highly complicated information to help me understand so we can make a whole decision."
Natasha ensures our products are compliant with U.S. and global regulations and leave our sites safely. "I want our products to succeed," says Natasha. "A part of being successful is creating opportunities and not giving up."