Fasteners / Cable ties
Global leader in the cable tie market

Vydyne impact-modified grades are ideal candidates for use in high-performance, long-lasting heavy-machinery and renewable-energy applications. With superior strength and heat properties, grades such as Vydyne 47H BK0644 and Vydyne 47H BK0668 are widely used and provide dependable performance in critical applications.
The Challenge
Cable ties used in extreme conditions such as heavy machinery or outdoor exposure in tough environments require products than stand up to their environments. The Ascend cable tie team works to ensure flawless performance of this critical fastening device.
The Vydyne Difference for Impact‑Resistant Products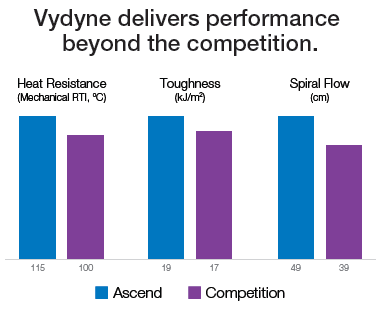 Vydyne's new grades offer better flow, higher heat resistance and higher impact toughness than existing competitive grades. Vydyne 47H BK0644 and Vydyne 47H BK0668 achieve the UL f1 standard for UV resistance.
We offer a full line of product offerings and technical solutions with the ability to mold sample cable ties.
Ascend is dedicated to cable tie product development and conducts the following testing:
UV weather tests | Heat aging tests | Impact testing | Loop strength testing | Hydrolysis resistance | Brittleness index | Cable tie failure analysis | Cold-weather installation
Application Uses: