Fiber Spinning
---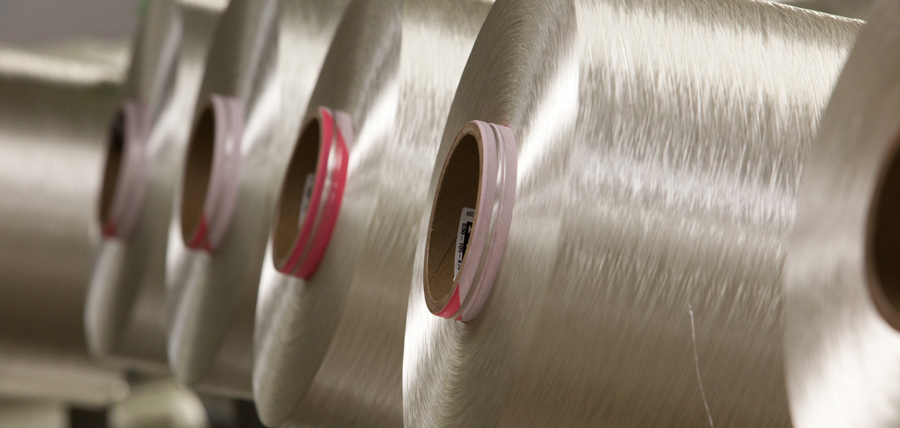 The fiber spinning industry served by Ascend Performance Material's products includes the producers of fine and micro denier fibers for apparel, heavy denier fibers for tires and other industrial products, high-tech fibers for automotive airbags and parachutes, producers of carpet, tow and staple fibers and a wide range of monofilament fiber makers.
Practically every type of nylon 66 fiber spinning process today is using one of Ascend's products. Not only are nylon 66 fiber spinner producers realizing the value and advantages of nylon 66 but so are nylon 6 fiber producers. The number of nylon 6 producers transitioning their production facilities to produce nylon 66 fibers has been increasing dramatically as they have come to realize the competitive advantages it provides. For example, in industrial and technical fiber applications compared with nylon 6, nylon 66 has a higher melting temperature, superior dimensional stability (lower creep) and abrasion resistance, which enables it to be the preferential fiber for tire cord fabric and airbag applications. Another example is in apparel textile fiber applications where the smooth, supple silky touch combined with superior color fastness, excellent stretch recovery, abrasion resistance and easy laundering, position nylon 66 to be the fiber of choice for a variety of high-end apparel applications.
Ascend nylon 66 polymer products are sold in various grades in pellet form and can be packaged in boxes, super sacks or bulk containers with poly liners. All the Ascend grades are medium viscosity and have world-class uniformity in RV and dye group concentration.
Learn more about Fiber Spinning
---